Dear Customer:
Having been in the robe business from Feb 21 1962,
Ireland Needlecraft has refined the art of robe production. We produce the very best robe in the business today and because of our emphasis on quality and detail, will do so in the future.

Ireland Needlecraft has not and will not succumb to a mass-produced, assembly line type of manufacturing, but with few exceptions, continues to make a single robe by a single operator. By so-doing, the robe will hang properly, wear well, and maintain its beauty over many years.

You will find that our prices are very competitive. After you have shopped, you will agree that the quality, detail, fabrics, and styles offered by Ireland Needlecraft are superior to those of our competitors. Not to mention the personal service and attention given.

We realize that purchasing robes is not only a lasting decision, but also a major investment of time and money.
Please feel free to call or write if you have any questions. We look forward to hearing from you in the very near future.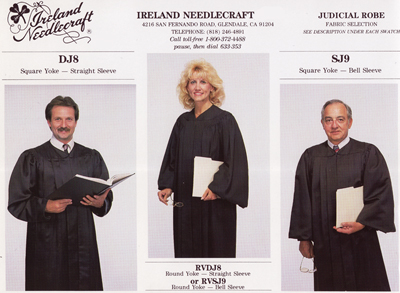 Sincerely,
Francisco A. Rodriguez